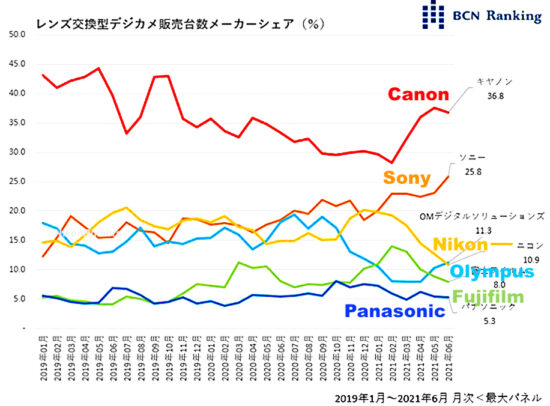 BCN Ranking published an article on the new Nikon Z fc camera and provided the latest overall interchangeable-lens camera sales data from Japan (see graph above):
Looking at Z fc's special site entitled "Things That Changed My World," it's clear that it's not aimed at Nikon's old fans, especially older men. It seems that they are aiming for women in their 20s and 30s, who are much younger than that. Shen Tanaka, an actress, model and illustrator, appears and talks about her values ​​and camera. We plan to continue to introduce young creators and promote the camera as a new expression tool.

Nikon says the Z fc is not the successor to the Df. It is a camera to acquire new Nikon users, and as a result of aiming for a new camera for the younger generation, it seems that they have arrived at a retro-designed camera.

In the interchangeable-lens digital camera market, Nikon used to be one of the top two, along with Canon . However, it has been struggling for the past few years. This is because I missed the mirrorless interchangeable-lens camera. In June, the market share of interchangeable lens cameras was 10.3%, which is in the first digit, and is in third place behind Canon, Sony and OM Digital Solutions. The two models of the affordable SLR "D5 600 " and "D3500" have maintained their market share, but both sold out this spring. Share is plummeting.

There is also a strategy to regain market share with single-lens reflex cameras, but now the mainstream is mirrorless single-lens cameras. The urgent task for Nikon is to put in a mirrorless interchangeable-lens camera, which is late.

As of June, Sony's share of the mirrorless interchangeable-lens camera was 33.3%, Canon was 27.7%, OM Digital Solutions was 14.6%, 3rd, and Fujifilm was 10.3%, 4th. Nikon is in 5th place with only 7.0% share.
Here are the interchangeable-lens camera numbers from the graph above (with DSLR cameras):
Canon

: 36.8%

Sony

: 25.8

Olympus

: 11.3%

Nikon

: 10.9%

Fujifilm

: 5.3%

Panasonic

: 5.3%
And here is the latest mirrorless camera sales data (without DSLR cameras):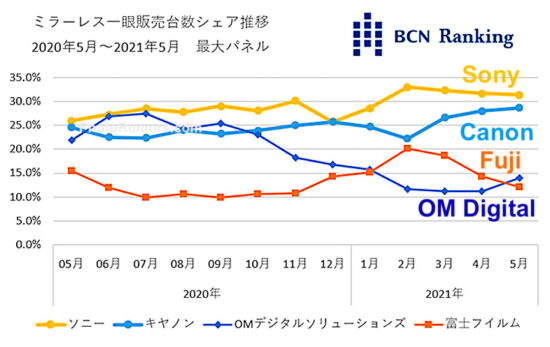 Nikon basically has under 10% of the Japanese mirrorless camera market and this is why BCN Ranking doesn't include Nikon in their regular reports. This sounds like a reasonable explanation. What I don't understand is why BCN Ranking doesn't provide on a regular basis the overall interchangeable-lens camera report that includes also DSLR cameras? All of their previous reports are almost exclusively for mirrorless cameras. It seems that for some reason BCN Ranking is not happy to report DSLR sales data or they are trying to exclude Nikon.
BCN Ranking collects real sales data from approximately 40% of the Japanese retailers – this is not a worldwide market share report.
Via BCN Ranking (translated)
---
15% off Topaz Labs products with code RUMORS15
30% off ON1 products with code NIKONRUMORS
$10 off Luminar with code NIKONRUMORS
10% off Capture One products with code NIKONRUMORS
10% off Viltrox lenses with code NIKONRUMORS
30% off Nik Collection (no code needed)