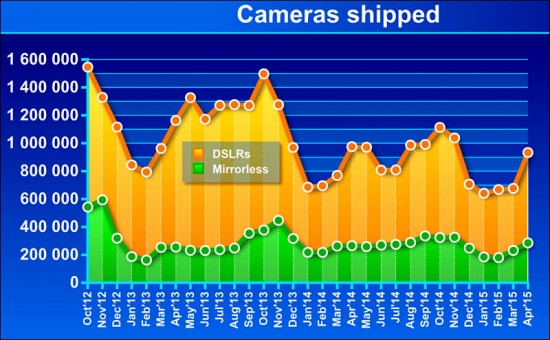 Last week Sony published an entire press release describing how successful their mirrorless offering is. There is no doubt that Sony has done a lot in a short period of time, but this is mainly because (I think) they remained unchallenged by the major players (Nikon and Canon). CIPA published their data for April and it seems that DSLR camera shipments actually had a significant jump in April. DSLR sales are falling down – we all know that, but mirrorless cameras shipments appear to be generally flat since 2013 and mirrorless still represents only a fraction of the DSLR market. It will be interesting to see how the dynamic will change when/if Nikon announces their own full frame mirrorless camera.
Here is the breakdown of camera shipments by region – DSLR sales still dominate the US and EU market:

More graphs available at Personal-view.com.