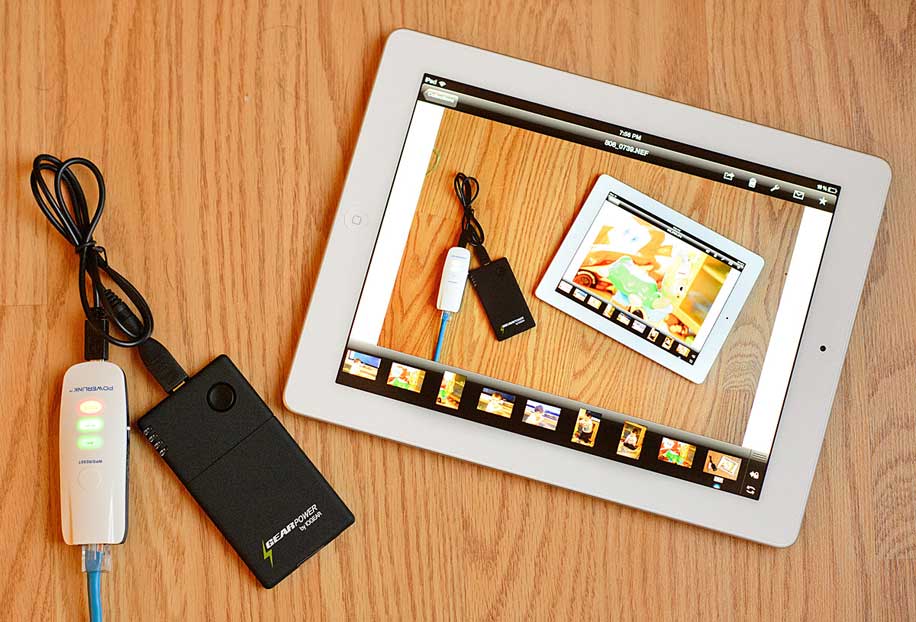 This guest post describes another (see also this post) Wi-Fi solution for Nikon D4 by Nick O'Donnell:
Like most of you I love spending a boat load of money on things I won't be using very much. Yeah, right. The Nikon D4 is one heck of a camera with seemingly every capability the could stuff into it, including the wireless networking abilities of the WT-5. I purchased my D4 the day they were released along with the WT-5 and it's a great tool but not for that price. As a working pro I will get the use out of it to make it worth the $800 investment, but I periodically book events that I would like to have 3 or more cameras transmitting images to the server computer and buying extras for a couple shoots a year isn't worth it. On the other side, photographers that might want to have fun with what it can do without putting out the cash for real thing have been looking into other options. Here's my $44.16 solution:
I've purchased the Powerlink AP2403 on a tip from my best friend and host of the amazing website Technically Lexy. They were running a few days long deal to pick one up for $22 shipped free. The AP2403 is a very small, lightweight Router/Client/Access Point that can switch between these modes, plus it has a mini USB port for power which will be crucial for getting the setup portable. For this setup I'm using it in AP mode, that's basically taking the data from the Ethernet port on the D4 and turning it into a wireless signal to send to the server.
The other item is a $22.16 eBay purchase of a GearPower USB charger. This is normally used to recharge cell phones or iPods on the go. Important thing with this is the power comes from a mini USB port so we can power the AP2403. You may be able to use several other devices, one I have on order is called a Callpod, bought that also because there is much more battery capacity so I'll let you know how it goes.
Setting this up was pretty easy too. You will need a separate Wi-Fi network to get the AP talking with the computer. I plugged the AP2403 into the wall using the provided ac adapter and used my laptop to log into it while it was in router mode. If you have a computer with Wi-Fi, it should see it as the network MP01, that was the default for mine. I connected to it and opened Internet Explorer to type in 192.168.16.254 – this will open the settings. Then I changed the switch on the side of the AP2403 to "AP".  That allowed me to see 'AP Client' in the wireless settings drop-down menu, select enabled and click apply. It will look for your Wi-Fi network when you click on 'site survey' you'll get a confirmation that it's connected to your Wi-Fi. The instructions that were included seem to be translated from Chinese or something because they were hard to read, but that should be all you'll need to do.
From there you'll be using the network settings in the D4 to connect, and your hardware settings will be using the wired network connections. The D4 doesn't know the wired connection isn't actually plugged in. Again, the AP2403 is essentially taking the signal from the wire and turning into a wireless signal. Since it's powered by a mini USB connection, the battery powers it perfectly. I've used it in HTTP mode and FTP mode and it works exactly as the WT-5 does. I'm using Cerberus FTP as my server program, it works like a charm. There are several free ones out there, but currently the WT-5 is incompatible with some of the free software out there. Of course using the HTTP setting in the camera to view and download images via a web browser is pretty easy too. I prefer running a server that can do some of the work for me. If you run a server you can send only the images you want. Combining the FTP software with a program like Hotfolder Prints from Breeze Systems will allow you to instantly print images sent from the camera, or you can use similar programs to show the images on a monitor to share with clients or friends.  You can connect to your iPad or iPhone with an awesome app called ShutterSnitch, it's very user friendly and allows for rating of photos with a slick interface that lets you move between images quickly.
I've been looking at some mounting options for this setup too.  I had a special plate added to a stroboframe flash bracket to hold the WT-4, of course that thing was huge so I don't need all that. I can see a simple use of Velcro holding the AP2403 and the battery to a small bracket that will attach to the tripod mount. I used to use Nikon's SK-7 to mount the extended range antenna for the WT-2 on my D2x. Another great thing I have is a brother-in-law that installs networks for a living so he can make me a cable a few inches long, so I'm hoping to mount it right off the side where the connection is maybe right in front of the sync port. Hope some of you out there can have fun with this and open up new doors for solving problems, or at least let the geek in you have a fun weekend project!
Feel free to leave comments if you have questions, I'll do my best to reply to them. I've also been chatting with many other users on dpreview on this topic in the D4 forums.