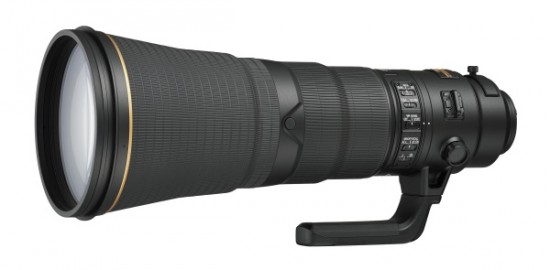 The line between Nikon USA version and gray market, fuzzy or crystal clear?
By Charlie Rumschlag, wildlife enthusiast and 35+ high tech sales, December 12, 2020.
I recently embarked on a mission to verify my recent purchase from Amazon for an AF-S NIKKOR 600mm f/4E FL ED VR lens was in fact a USA version and not Gray market.  The information directly from NIKON USA determination I found disturbing.  Some would argue their response to be "fuzzy" others may argue it's "crystal clear." In summary, what the NikonUSA support person said was to be certain you are purchasing a Nikon USA warranted lens, either buy only directly off their NikonUSA website, or only their technicians can determine if your purchase is covered by warranty.  As a 35+ year high tech sales professional with extensive experience with both direct and indirect channels, I interpret that statement as one that discourages end customers from purchasing through Nikon's authorized dealers. And the comment about only their technician can determine warranty, I find concerning. The validity of Nikon's warranty is determined solely by the technician who's bench it shows upon. Assuming intended USA items are not counterfeit, I would think the serial number and UPC code could be used to build an approved warranty database. 
I had been looking at the new 600mm for some time.  Every time I looked either on the Nikon USA site or other common on-line photo retailers, they were on backorder.  Recently while making another purchase on Amazon, I noticed Amazon had one in stock, being sold directly by Amazon so I decided to purchase it. After receiving it, and registering it with Nikon, I got to thinking, was this in fact a USA version or gray market import Amazon sold me? That led me on the search for answers.  
My first effort was online searches and after extensive effort, I thought contact Nikon, certainly with the serial number, they should have a record of who they sold the lens to and from there be able to determine if it's a USA version or gray market.  Here is Nikon's response. 
Thank you for contacting Nikon!
For this regards, we do not have any information on serial number history and thus cannot provide that information.
Should you have any further questions, please do not hesitate to reply to this email or give us a call at 1-800-645-6687.
A second attempt with Nikon (after conversations with Amazon) and providing the serial numbers along with the UPC code.
We are not able to determine whether a product is Gray Market based on the serial number alone. To determine whether your product is Gray Market, it must come to our service center for evaluation. I have included an article below that will further explain Gray Market products.

https://www.nikonusa.com/en/nikon-store/gray-market.page

What are Gray Market Products?
Nikon products that are imported and sold by anyone other than Nikon Inc. USA are considered Gray Market products. These usually are genuine Nikon products that were intended for other Nikon markets; therefore, they may not meet Nikon's specifications for US products and they may not perform as expected.
What if I already own a Gray Market Nikon product?
Nikon Inc. USA and Nikon Authorized Dealers won't provide technical support, repair or warranty service on Gray Market products. If you suspect you may have purchased a Gray Market Nikon product, please contact the seller or importer for warranty and service information as well as software updates and downloads. Refer to the seller or the warranty cards included with your product for service contact information.
After Nikon was unable to help the first time, I went back to Amazon, and eventually finished the effort at Amazon. I won't share the gory details here of working with a customer service process that supports everything from toilet paper sales to $13,000 camera lenses! After three different phone calls, speaking with six different people, then attempting through chat, three different people though chat, Amazon finally emailed me the message below (I appropriately XXXX out information, my order number, and individuals name) 
From: "Amazon.com Customer Service" <XXXX@amazon.com>
Date: December 11, 2020 at 4:58:37 PM EST
To: XXXXXXXXXXXXX
Subject: Your Amazon.com Order #XXXXXXXXXXXXXXXXXXX
Reply-To: XXXXXXXXXXXXXXXXXX

Your Account Amazon.com

Message From Customer Service

Hello Mr. Rumschlag,

Per order #XXX-XXXXXX-XXXXX, for the Nikon AF-S FX NIKKOR 600mm/4E FL ED Lens This is in fact a Nikon USA version Nikon warranted lens acquired by Amazon through appropriate channels, and is not a Gray market unwarranted version

XXXXX XXXXXX , Friday, 11 December 2020

Thank you

Best regards,

Amazon.com
Nikon website says: https://www.nikonusa.com/en/nikon-store/shopping-help/gray-market.page
How can I be sure I'm buying an official Nikon USA product?


Remember: the easiest way to recognize gray market is that the product does not include a Nikon Inc USA warranty. Look for, or ask for a Nikon Inc USA warranty whenever you buy a Nikon product.
This is not what the Nikon support person said. They clearly said to be certain of a Nikon warranty, only buy from Nikon USA website or have their technician evaluate it after purchase!  I hope after all this, my letter from Amazon meets the criteria of their website!
With this experience, it is no surprise to me why Nikon has been losing market share. Market share is not only impacted by maintaining a portfolio of competitive products, but includes having a well-supported sales channel, and treating the end customers like they are truly important to your long term success.
 
Charlie Rumschlag is a professional high tech sales manager with extensive experience at Hewlett-Packard, Agilent Technologies, and is currently employed by another high tech company.  He has extensive experience in both direct and indirect sales and support channels.  His hobby and passion is wildlife photography www.brestbayphoto.com
---
All Topaz Labs products: 30% off (get extra 15% with code RUMORS15)
All DxO products: up to 30% off
Capture One 21: up to $40 off (with promo code HOLIDAYSTYLES)
Luminar AI holiday bundle (get $10 off  with code NIKONRUMORS)