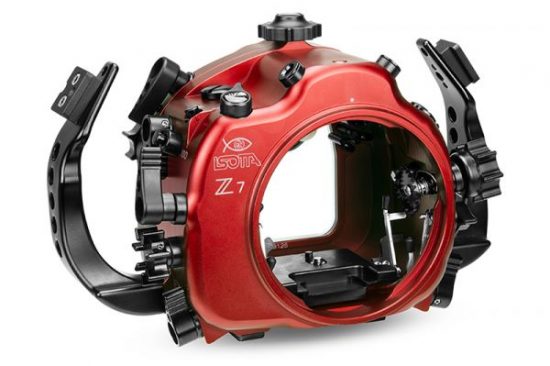 The Italian company Isotta announced new underwater housing for the Nikon Z6/Z7 mirrorless cameras. The housing is made out of anodized aluminum and is priced at $2,790.
More underwater housings for Nikon Z6/Z7 cameras can be found here.
Additional pictures and press release:
Isotta Underwater Camera Housing for Nikon Z6 and Z7
Castelnuovo del Garda (VR), Italy – ISOTECNIC SRL is pleased to announce the launch of its new Underwater Camera Housing for the full frame mirrorless Nikon Z6 and Z7, which will be featured for the first time at EUDI show, on 1st, 2nd and 3rd March in Bologna. Hand-crafted with the highest quality and entirely Made in Italy, with a stylish, compact and ergonomic design, the new Isotta housing has been specifically created for the breakthrough model of Nikon Z7/6. The durable anodized aluminum protects the camera from water and other damaging elements and its unique Isotta signature-red color makes it stand out from the crowd.
Double O-Rings on all parts
An excellent watertight seal is ensured by double O-Rings on every mobile and removable part, such as back housing, buttons, ports, caps and connectors.
TTL Converter Trigger Included
The housing for Nikon Z7/6 features TTL Converter Electronics Trigger for Automatic flash control. It also offers the possibility to use external strobes via two enhanced lighting optical connectors, thanks to improved bulkhead construction, as well as two optional Nikonos sync cord bulkheads. This allows for easy mounting of any strobe and lighting set up.
Single-hand locking knob
The housing features the Isotta well-known easy and secure opening/closing of the housing thanks to the upper helicoid that can be operated using only one hand.
Full controls accessibility and lens versatility
Isotta Housing for Nikon Z7/6 gives full accessibility to the camera controls (levers, knobs, buttons) and dials that are in aluminum and with clearly labelled functions providing better handling when in water. The housing has been crafted with a bayonet 120mm connection and with enough internal space to fit the Nikon FTZ adapter, which allows the use of Nikon F-mount lenses on the Z7 – with varying degrees of compatibility. The interchangeable port bodies and extensions rings combine to allow the use of most of lenses on the market for maximum versatility and performance.
Three M16 X1 holes
This versatile housing present three M16 holes on the upper side for installation of accessories, e.g. syncro cords, vacuum valves, monitors.
Integrated Back Visual and Acoustic Leak Detection System
The back housing features an immediately visible moisture indicator with an evident red LED signal light and an acoustic warning signal, with battery easily replaceable by the user.
Viewfinders options
The back door has a large window anti-scratch glass for a fine camera display and optical viewfinder view and it is entirely detached from the front body to make easier the camera fitting. External viewfinders can be mounted, INON X-2 compatible.
Compact, solid red anodized aluminum body weighs 2100 grams with handles included (1800 gram without). Dimensions: 200 mm W. x 117 mm D. x 173 mm H. Working depth is 100 metres.
Available since March 2019, the housing carries a retail price of 2.790,00 € Incl. 22% VAT without a lens.
TECHNICAL DATA
Signature red color anodized aluminum body;
Ergonomic side handles, adjustable (via optional accessory);
TTL Flash Trigger included;
Two fiber optic connectors;
Dedicated REC lever and ISO button;
Three M16 holes, for installation of accessories, e.g. syncro cords, vacuum valves or monitors;
Back housing completely detachable from the front housing;
Tray with lock for easy fitting of the camera;
Single-hand closing knob;
Aluminum buttons and dials with engraved symbols identical to camera controls;
Wide back display viewfinder glass with optical viewfinder;
Dual O-Ring seals on all buttons and removable parts;
Moisture sensor with acoustic signal and LED indicator (replaceable battery);
Removable port – 120mm bayonet;
Wide, rubber covered feet for solid footing on boat floors or sea floor;
External viewfinders can be mounted, INON X-2 compatible;
Depth rated to 100 metres;
Weight: 2,100 grams with handles;
Size: 200 mm W. x 117 mm D. x 173 mm H.
Via Divephotoguide