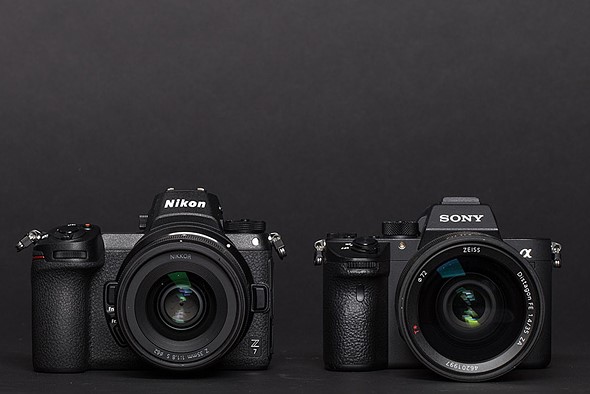 Dpreview published a comparison between the Nikon Z7 ($3,396.95) and Sony a7R III ($2,998 after $200 rebate) mirrorless cameras. They evaluated 10 different aspects of both cameras and here is a recap of their findings:
Body and design
"We're inclined to give the nod to Nikon in this particular comparison, though we realize that ergonomics represent a highly personal preference."
User interface
"Both cameras provide numerous options for customization, though we think most people will find the Nikon easier to pick up and use without spending a lot of time setting up the camera. However, the Sony certainly gets points for very deep features and customization options to meet your needs. There's not a clear winner here – each provides advantages depending on how you plan to use the camera - but if we were forced to choose one overall implementation, it would be the Nikon."
Image quality
"Generally speaking, we still prefer Nikon colors, though Sony has made significant improvements to its color science of late. However, Sony's high ISO noise reduction is a step ahead, leaving behind a nice random noise pattern while Nikon's JPEG engine can leave behind 'rice grain' artifacts."
Autofocus
"Overall, the a7R III wins here, despite the fact that Nikon has one of the best AF systems on the market in its DSLRs. If it can bring that system, or something similar, to its mirrorless cameras it may well change the equation."
Video
"We'll call this a draw for now since it depends on your specific video requirements and workflow, but we will say that for ease of use, the Nikon Z 7 wins without question."
EVF and LCD
"Both cameras also have tilting rear touchscreens, though the Nikon is the clear winner here with a 2.1M-dot screen vs. a 1.44M-dot screen on the Sony. As we've mentioned elsewhere, Nikon has also done a better job of integrating the touchscreen into the camera's overall user experience, giving the impression that it was an integral part of the camera's design from the ground up rather than a feature bolted on later. Nikon wins this one."
Card slots and media
"One of the more controversial aspects of the Z7's design is Nikon's decision to include a single card slot in the camera at a time when dual card slots have been considered an expected feature, particularly among premium models. The a7R III, in contrast, includes dual card slots with a variety of configuration options, including the ability to save all files to both cards for backup, using one card for overflow, or storing Raw files on one card and JPEGs on the other.

Additionally, the two cameras use different card formats, with the Nikon relying on XQD cards while the Sony utilizes the more common SD format, though only includes support for UHS-II cards in one of its slots. Although Nikon may be somewhat forward-looking in going XQD-only (it tells us the camera will also support CFexpress media in a future firmware update,) if you've been using SD cards up until now you may need to budget for some additional memory along with the camera body."
Lens mount and lenses
"Sony probably comes out on top here today, but Nikon's forward-looking Z-mount may give it a leg up in the future."
Extra features
"While there are many differences between the Z7 and a7R III, many of them ultimately come down to different ways of implementing the same or similar features. However, each also has unique features not found on the other."
Performance
"We'll get a better sense of how it performs in the real world as we continue testing, but the advantage definitely tilts in Sony's direction, by a large margin in this case."
Conclusion
"Nikon has done an excellent job of creating a good user experience on the Z7, despite it being a first-generation product. Ergonomics are generally quite good, the EVF is bright, crisp, and responsive, and the touchscreen is well integrated into the overall experience. It also steps up Nikon's game with respect to video, including very good 4K video, support for 10-bit 4:2:2 N-Log via HDMI and potentially the best video AF we've seen on a mirrorless camera. What we really miss, however, is the 3D Tracking system found in Nikon's DSLRs, which has consistently been best-in-class."