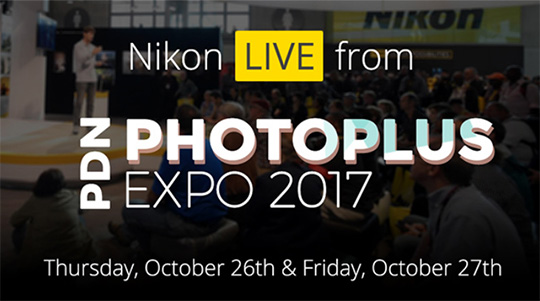 Nikon already released their official press release for the PhotoPlus Expo 2017 expo – this means no new products will be announced for the show (as I already reported last week).
Here is the full press release:
Nikon Shows The Latest Innovations In Digital Imaging At The PhotoPlus Expo 2017
Nikon Continues 100th Year Anniversary Celebration at Upcoming Tradeshow with Product Displays, Ambassador Presentations, Panel Discussion and More
NEW YORK, NY – Nikon will once again return to the PhotoPlus Expo in New York City, offering attendees a compelling booth experience while providing educational presentations from respected Nikon photographers and Ambassadors at the Nikon Theater. Show attendees will also be able to experience Nikon's latest products and view a dedicated display marking Nikon's 100th year anniversary.
Throughout the show Nikon will highlight its extensive product line, headlined by the recently announced full-frame Nikon D850 DSLR. Attendees will have the opportunity to get hands-on time with the camera as well as speak directly with Nikon product experts. A variety of NIKKOR lenses will also be on display, including the new ultra-wide zoom AF-P DX NIKKOR 10-20mm f/4.5-5.6G VR, the AF-S FISHEYE NIKKOR 8-15mm f/3.5-4.5E ED, the wide-angle AF-S NIKKOR 28mm f/1.4E ED and the compact telephoto AF-P NIKKOR 70-300mm f/4.5-5.6E ED VR. Also on display will be the popular AF-S DX Micro NIKKOR 40mm f/2.8G lenses, which is paired up with the AF-P DX NIKKOR 10-20mm f/4.5-5.6G VR lens as part of the new Landscape & Macro 2 Lens Kit. Show attendees will also be able to go hands-on with the Nikon D7500, Nikon D5600, COOLPIX W300 cameras and a variety of other Nikon imaging products.What's more, to commemorate Nikon's 100th anniversary, the Nikon booth will feature an exclusive collection of prized Nikon cameras spanning the last century.Throughout the show, the Nikon Theater will host a variety of live presentations, plus Nikon will be sponsoring educational class sessions taught by various Nikon Photographers and Ambassadors. The presentations held at the booth will cover various topics including landscape photography, filmmaking, night photography and more. A full schedule of Nikon presentations at the Nikon Theater can be found below. Additionally, all presentations on Thursday, October 26, and Friday, October 27, will be livestreamed. Interested individuals should visit nikonusa.com/live to tune in.
Geared toward photography students and educators attending the show, Nikon and PDNedu will co-sponsor a panel discussion titled, "Creating a Sustainable Career" on Thursday, October 26 on the showroom floor from 2:00-3:30 p.m. EDT. Nikon Ambassadors Dixie Dixon, Deanne Fitzmaurice and Matthew Jordan Smith will discuss how to pursue careers in digital and photo imaging, and best practices for advancing and developing within an everchanging industry. The panel will include a Q&A session moderated by PDN Editor-in-Chief Holly Hughes, followed by a networking reception at the conclusion of the discussion.
Nikon at PhotoPlus Expo 2017
Where:  Booth #519 at The Jacob K. Javits Convention Center – 11th Ave. (between 34th & 35th St)
When:  Thursday, October 26, 2017: 10:00 a.m. to 5:00 p.m. EDT
Friday, October 27, 2017: 10:00 a.m. to 5:00 p.m. EDT
Saturday, October 28, 2016: 10:00 a.m. to 4:00 p.m. EDT
Schedule of Presentations at the Nikon Theater:
THURSDAY, OCTOBER 26, 2017 (also livestreaming at nikonusa.com/live)
10:15am – 10:45am: Doug Gordon – The Posing Project
11:00am – 11:30am: Matthew Jordan Smith – Commercial Portrait Photography – It's All In The Details
11:45am – 12:15pm: Mandy Lea – Shedding Light on Landscapes: Doing What It Takes to Get the Shot
12:30pm – 1:00pm: Joe McNally – The Power of Portable Lighting
1:15pm – 1:45pm: Corey Rich – Shooting Powerful Video: A Filmmaker's Personal Project
2:00pm – 2:30pm: Tamara Lackey – Photographing the Style, Soul & Laughter of Children
2:45pm – 3:15pm: Andrew Hancock – Editorial to Commercial: Versatile Storytelling in the World of Sports
3:30pm – 4:00pm: Bambi Cantrell – The Language of Light and Shadows for Impact
4:15pm – 4:45pm: Lucas Gilman – Extreme Landscapes: Discovering the Art of Time-Lapse Movies
FRIDAY, OCTOBER 27, 2017 (also livestreaming at nikonusa.com/live)
10:15am – 10:45am: Doug Gordon – The Posing Project
11:00am – 11:30am: Josh Cripps – Lenses of Landscape: Breaking the Rules
11:45am – 12:15pm: Andrew Hancock – Editorial to Commercial: Versatile Storytelling in the World of Sports
12:30pm – 1:00pm: Dixie Dixon – The Best Kept Secrets of a Fashion Photographer
1:15pm – 1:45pm: Jerry Ghionis – Wedding and Fashion Photography: Extreme Versatility
2:00pm – 2:30pm: Joe McNally – The Power of Portable Lighting
2:45pm – 3:15pm: Mandy Lea – Shedding Light on Landscapes: Doing What It Takes to Get the Shot
3:30pm – 4:00pm: Adam Woodworth – Alone in The Dark: Tales of A Night Photographer
4:15pm – 4:45pm: Deanne Fitzmaurice – The Heart of The Story
SATURDAY, OCTOBER 28, 2017
10:15am – 10:45am: Steve Simon – Master the Street and Raise Your Game
11:00am – 11:30am: Adam Woodworth – Alone in The Dark: Tales of A Night Photographer
11:45am – 12:15pm: Tamara Lackey – Photographing the Style, Soul & Laughter of Children
12:30pm – 1:00pm: Jerry Ghionis – Wedding and Fashion Photography: Extreme Versatility
1:15pm – 1:45pm: Corey Rich – Shooting Powerful Video: A Filmmaker's Personal Project
2:00pm – 2:30pm: Dixie Dixon – The Best Kept Secrets of a Fashion Photographer
2:45pm – 3:15pm: Lucas Gilman — Extreme Landscapes: Discovering the Art of Time-Lapse Movies
3:30pm – 4:00pm: Josh Cripps – Lenses of Landscape: Breaking the Rules