DxOMark published their reviews/test results for the Zeiss Milvus 2/100mm ZF.2 and Nikon AF-S DX 55-200mm f/4-5.6G ED VR II lenses:
Zeiss Milvus 100mm f/2 ZF.2 lens ($1,648.65):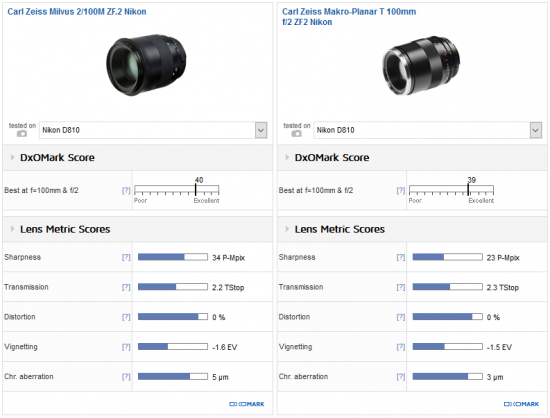 Many of the models in the Classic range were based on Zeiss Contax designs, and while excellent, it was inevitable that they would be refreshed to meet the slightly different demands of modern digital SLRs. The original 2/100, however, was a relatively new design and an outstanding optical performer anyway, so any serious updates to the optical design would likely have resulted in a stiff premium. As it stands, the enhancements in the new T* coating have brought both a welcome increase in sharpness levels and in uniformity across the field, all achieved while maintaining the price of the original model. While it's not exactly cheap, optical quality like this rarely is.
Nikon AF-S DX 55-200mm f/4-5.6G ED VR II lens ($139.95):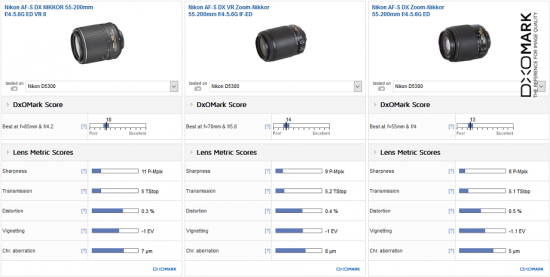 The 4-stop VR system is particularly useful for a lens of this type, enabling sharper shots of relatively static subjects using slower shutter speeds around 1/30 sec at 200mm. VR is less effective for shooting quick action sports or wildlife, however, for which you need fast shutter speeds to prevent blurry shots. For such subjects, the f/5.6 maximum aperture and 6.8 TStop light transmission at 200mm mean that you're going to need pretty good light to achieve the shutter speeds required, as well as enough available light for responsive autofocus performance. That's the case with all variable-aperture zooms in this price bracket, however, and Nikon should be applauded for making significant improvements to sharpness at 200mm on the Nikon 55-200mm f/4-5.6 II, which was a weak point in previous versions. So with improved sharpness, additional features, and a price tag as cheap as its predecessor's (if you can pick it up discounted), the new 55-200mm f/4-5.6 II DX mount telephoto zoom is a win-win option for Nikon APS-C shooters looking for an affordable telephoto zoom lens.