Iceland in black and white by Sven Verbruci (Website | Facebook | Instagram):
Every year I set out to do a roadtrip with my dad. Starting in the Netherlands where we live, we drove a two seater roadster to Italy to get challanged by some legendary mountain passes. After seeing the Tibet Hütte at the top of the Stelvio pass more than a dozen times we decided it was times for something else and made plans to go to Iceland!
As to be expected I did bring along some of my Nikon gear. Two bodies and four lenses were packed into my Lowepro AW 400 backpack, which you'll read more about later on. This post is meant to be an inspiration to those who are also travel enthusiasts and have a great love for photography as well. Please remember; both traveller and photohrapher will really need to go and see Iceland for themselves, as not certainly not me, nor any photographer can fully capture on camera that what Iceland truly beholds.
What follows is a short story about my first time visit to this great and unforgettable island.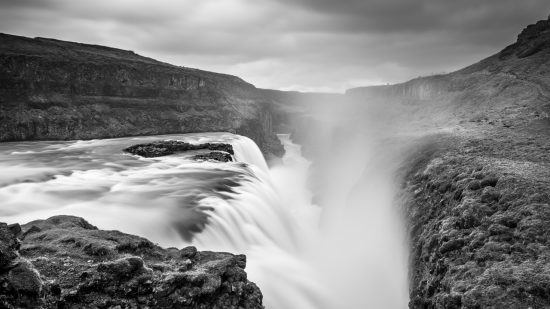 ICELAND…
…is where the magic happens. It can feel like you're on Mars, then drive for 10 minutes and you'll find yourself thinking you're on Venus only to drive another 10 minutes and realize this is how Neil Armstrong must have felt when he landed on the moon. There is no other country in the world where the scenery changes that much, or that fast. From the moment my plane approached Keflavik International Airport I realized I was in for something special. As the plane was making it's turn over the southwest region of Iceland, I could see vulcanic landscapes with meandering rivers, gigantic glaciers and almost no roads. I thought I was in heaven.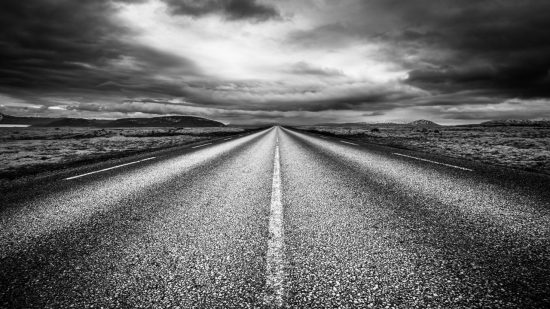 The road from the airport to Iceland's capitol city Reykjavik is straight forward with little surprises and from the main road there isn't really that much to see. I considerd this to be a good thing, knowing that from here on out things could only get better. And better it got. Much, much better. As soon as you leave Reykjavik and go to places like Pingvellir National Park, the Gullfoss, Skogafoss or Seljalandsfoss waterfalls you'll start to realize what Iceland is about. While these mentioned locations are quite common and attract a lot of tourists nowdays, I really recommend you to go see them. Not only because each and every of these locations are special in their own way, but also because of the memorable things you'll get to see along the way when driving to or from these locations.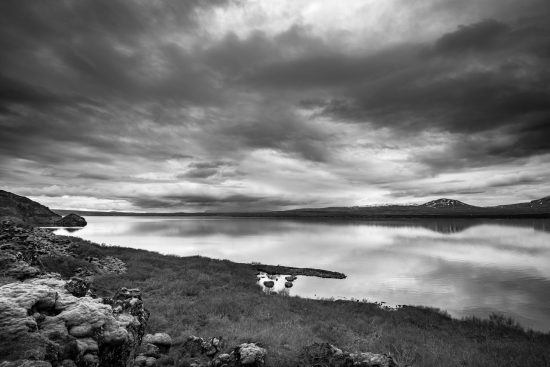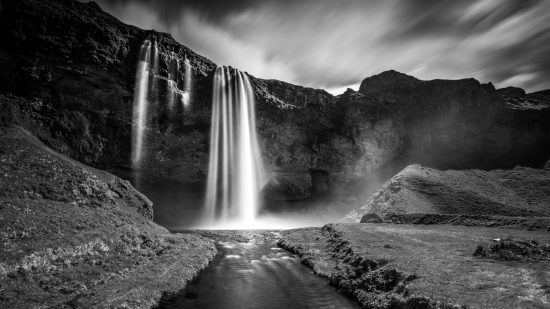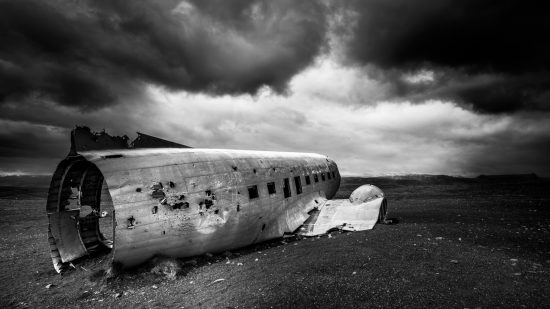 Less common and a bit more difficult to reach are places like Haìfoss, Bruàrfoss or the crashlanded Dakota plane on the vulcanic southbeach near Vík. A 4×4 vehicle is certainly recommended when you want to reach these places, but once there you know why you took the trouble to get there. For me as a photographer I got the most pleasure out of reaching the less common places. Most of the time you'll find yourself alone so nobody can ruin the shot execpt for you. Not only that, but the sense of adventure you get when you leave the car and start walking, climbing rocks, crossing rivers, challenging waterfall (there is just no end to it) is all part of the journey to that epic shot.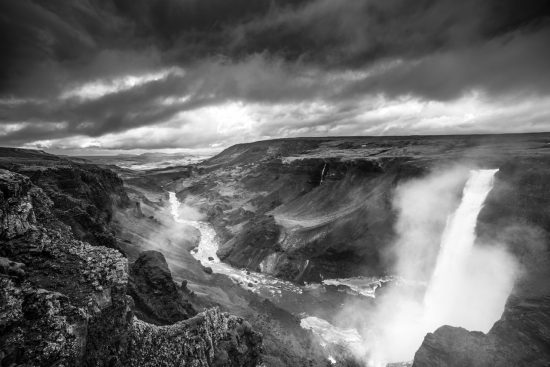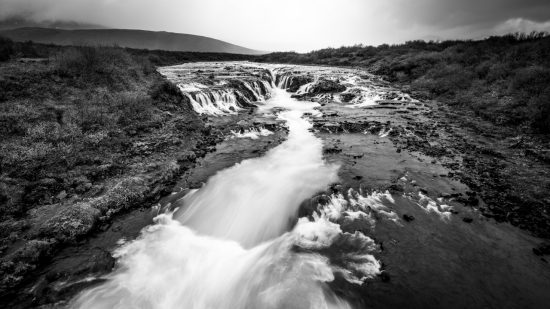 Talking about photography… I was accompanied by my Nikon D800 (and D7000 for backup and never used it once). I brought along 4 lenses ranging from 14mm to 300mm, a 3 and 10 stops ND filter, remote shutter release and ofcourse a tripod. The chosen lenses were the Samyang 14mm f/2.8 AE, Nikkor AF-S 16-35mm f/4G IF ED Nano, Nikkor AF-S 50mm f/1.8G and Nikkor AF-S 70-300mm f/4.5-5.6G IF ED which I considered to be a fairly light loadout. Not bringing along those heavy f/2.8 zooms does give you some extra movability when you're going for that hard to reach spots. It's a trade off because less weight might also mean less quality in this regard… Don't forget to bring along some equipment to clean your lenses and filters!! When you love to shoot with wideangle lenses, you'll want to get as close to those roaring waterfalls as possible and your lens will get soaked in seconds. The real challenge is to make a 10 seconds or more exposure without getting those darn waterdrops on your ND filter to ruin the shot.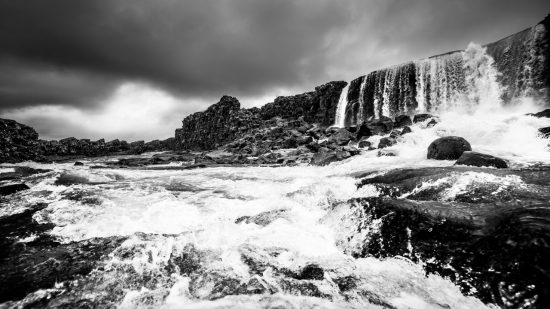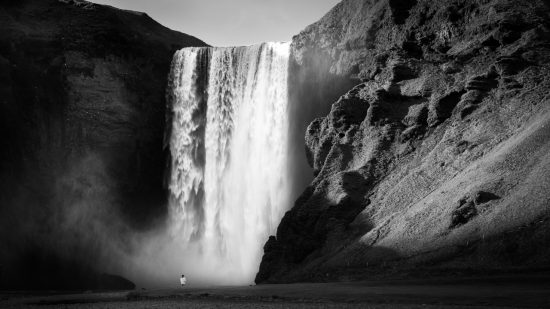 For some this might be unexpected, but please bring along a telezoom lens. Not so much for the wildlife -there isn't a whole lot of wildlife on Iceland anyway-, but more so for the great sceneries you'll see in the distance… While it is always temping to use a wideangle lens to get as much of the landscape as possible into the frame, please note that sometimes going for the wideangle effect will make the photo look less interesting with only a big chunck of sky and a thin line for the horizon to be seen. Zooming in makes you think more about the right composition and brings a lot more detail into the frame. I found myself using my telezoom lens a lot. The photo above was taken at 200mm and the one below at 210mm. More common is the range between 70mm and 150mm, but you'll really want that extra reach up to possibly even 300mm when you're standing in the middle of the Icelandic void.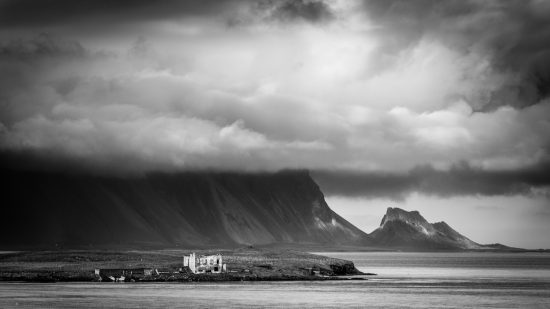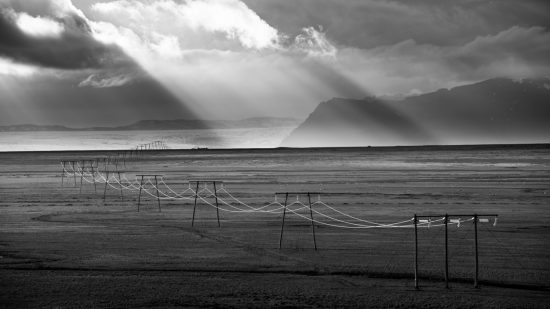 Another challenge arose when I decided to do a series of photos depicting Iceland in black and white. Suddenly different rules come into play to make a photo look interesting and there's really much more to it than to just hit the 'black and white' option in Adobe Photoshop or Lightroom. The thing with black and white landscape photography is that a boring shot will allways be a boring shot. There is no camouflage with exciting colors that can make the photo any better. But there is a huge upside as well. When you have a surreal scenery like Iceland at your disposal, black and white photography helps to make the scene even more surreal. It becomes a thing of your own imagination where you can fill in the colors of the land all in your mind. Suddenly different layers come to life and for some reason black and white photography really suits Iceland. It allows the peace and quiet of the land to be translated into the photo itself. Where some might argue that black and white photography is an escape for those who can't get there colors right, I think of it as a way to tap deeper into my fantasy and thereby creating a new reality. There is a lot of artistic freedom when it comes to photography and I like to utilize that freedom to bring the reality closer to my fantasy.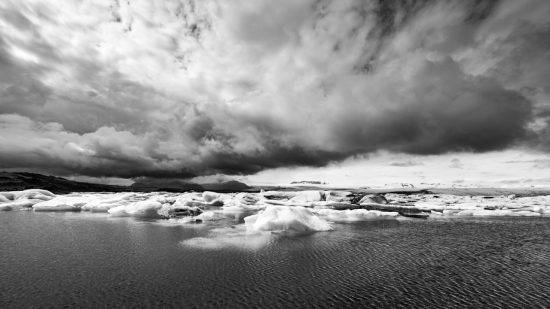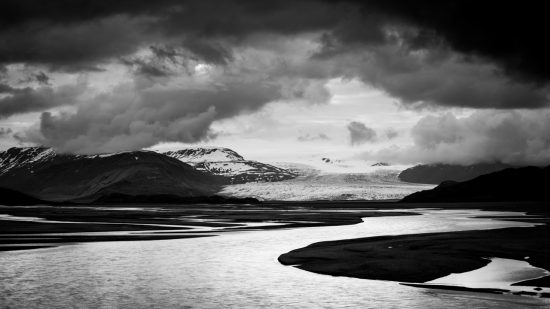 So I will leave it at that. The reality that through fantasy becomes your own new reality again. This gallery brings some nice closure to my last trip to Iceland and is at the same time a warming prologue to my upcoming trip to Iceland which will start on September the 5th of 2016. You can follow me on Facebook or Instagram or visit my Iceland page to stay up to date regarding the new Icelandic adventure!
Used gear:
– Nikon D800
– Nikon D7000 (for backup only)
– Samyang 14mm f/2.8
– Nikkor AF-S 16-35mm f/4G IF ED Nano
– Nikkor AF-S 50mm f/1.8G
– Nikkor AF-S 70-300mm f/4.5-5.6G IF ED
For now, enjoy the rest of the photos. Thank you for watching!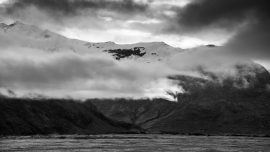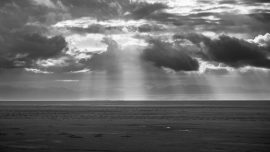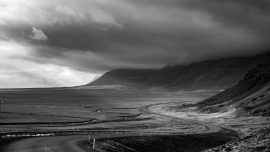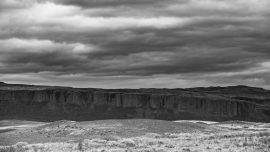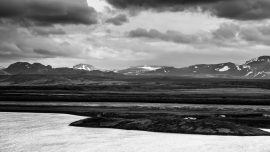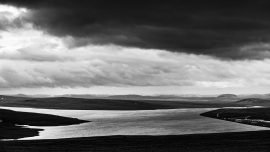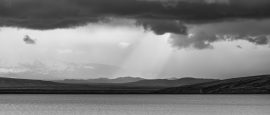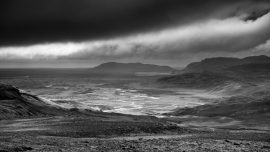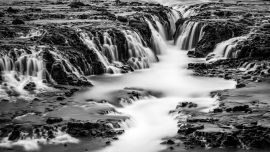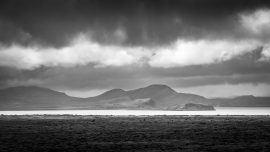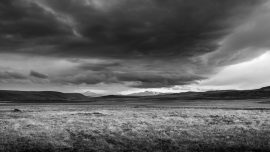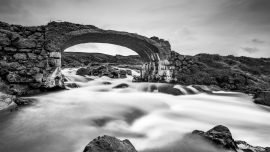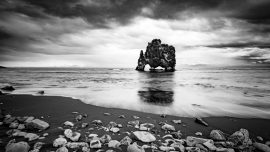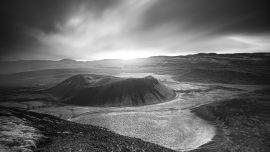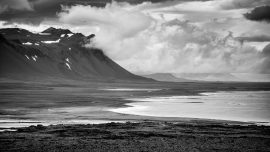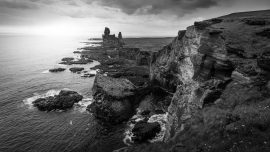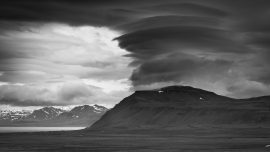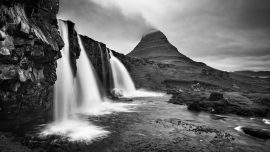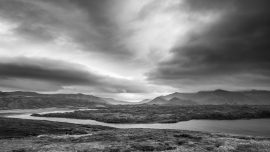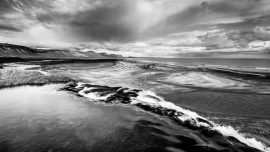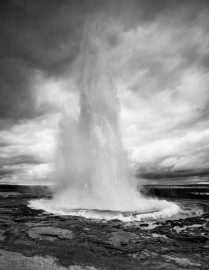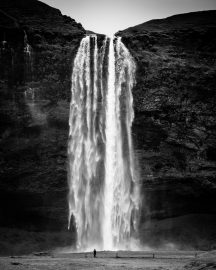 If you have an interesting idea for a guest post, you can contact me here.