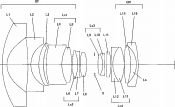 Nikon has a new patent filed in Japan for a Nikkor PC-E 19mm f/4 full frame mirrorless tilt-shift lens. This is the second Nikon patent for a full frame mirrorless lens – the first one was for a 28-80mm f/3.5-5.6 VR lens.
I already reported rumors that Nikon is working on a new full frame mirrorless camera. Here is a 2014 quote from Toshiaki Akagi (Department Manager in Nikon Design Department) about the possibility of a new large sensor mirrorless camera in the future:
"We know that there is a certain body of demand for larger sensors in mirrorless products. Although we already have the 1 inch sensor in the 1 System, we don't want to deny the possibility of future large-sensor mirrorless cameras. So maybe if there is enough demand we may be able to provide another type of mirrorless camera with larger sensors. This is one of the solutions."
I think the new mirrorless system will be announced in late 2016, maybe for the 2016 Photokina show (September).