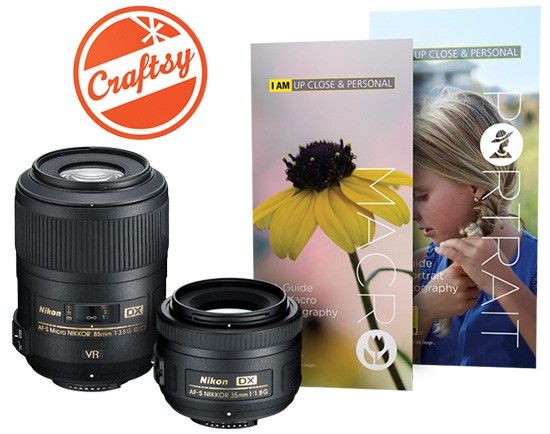 For the 2015 PhotoPlus Expo, Nikon announced a new Nikkor macro & portrait 2 lens kit that includes:
Nikon DX Micro 85mm f/3.5G ED VR ($526.95)
Nikon AF-S DX 35mm f/1.8G ($196.96)
Two educational guides (Macro & Portrait)
One online photography class from Craftsy.com ($49.99 value)
Shipping starts in November 2015 with a price tag of $816.95
Full press release with schedule of Nikon events at the 2015 PhotoPlus Expo:
Nikon Celebrates the Latest Innovations and Technologies in Digital Imaging at PhotoPlus Expo 2015
Attendees Will Experience the Latest Nikon Products and Learn from Nikon Professional Photographers
NEW YORK, NY – PHOTOPLUS BOOTH #401 – Nikon will be exhibiting at the PhotoPlus Expo 2015 to showcase the latest imaging products and provide insight into the world of photography from some of the most gifted Nikon photographers at the Nikon School Theater. Nikon will also introduce the new Macro & Portrait 2 Lens Kit, a versatile lens bundle available for passionate DSLR shooters eager to expand their creative options with legendary NIKKOR glass.Nikon will showcase its entire product line, including the lightning-quick and very powerful DX-Format D7200, as well as the newest NIKKOR lenses, including the AF-S NIKKOR 200-500mm f/5.6E ED VR and the AF-S NIKKOR 24-70mm f/2.8E ED VR. The Nikon booth will also feature a unique "candy fantasy land" display, a three-day project from Lauri Ditunno, owner of New York City based cake studio Cake Alchemy. Throughout the show, Ditunno and her team will create a fantasy land built entirely from cake and candy, providing booth visitors with a fun and dynamic shooting scenario for trying out Nikon's latest products.
At the booth, the Nikon School Theater will host educational presentations from several world-renowned Nikon professional photographers, who will detail their experiences and techniques for capturing beautiful images and HD video (schedule below). On Thursday, October 22 from 4:00-5:30 p.m., Nikon Ambassadors Joe McNally, Tamara Lackey and Cliff Mautner will participate in an informative panel discussion co-sponsored by Photo District News at the Show Floor Theater titled "Things I Wish I'd Known Before Starting My Career in Photography." Moderated by award-winning educator and author, Mary Virginia Swanson, these distinguished professionals will offer advice to students and photography educators on how to break into the world of photography. Attendees will also have the opportunity to meet and mingle with the Ambassadors at the conclusion of the panel.
New NIKKOR Holiday Lens Bundle
Introduced at PhotoPlus this year is the new Macro & Portrait 2 Lens Kit, an impressive lens bundle for any photographer ready to creatively tell their story. The bundled kit features two NIKKOR prime lenses (AF-S DX Micro NIKKOR 85mm f/3.5G ED VR and AF-S DX NIKKOR 35mm f/1.8G), two educational guides (Macro & Portrait) and an online photography class from Craftsy.com ($49.99 value), providing existing DSLR owners with a new perspective for framing stunning portraits or macro shots. Great additions to any budding photographer's bag, both lenses offer the versatility and precision to expand one's creative horizons. Just in time for the holiday season, the Macro & Portrait 2 Lens Kit will be available in limited quantities in November 2015 for a suggested retail price (SRP) of $819.95*.
Additional Information
Where: The Jacob K. Javits Convention Center – 11th Ave. (between 34th & 35th St.), Booth #401
When: Thursday, October 22, 2015: 10:00 a.m. to 5:00 p.m.
Friday, October 23, 2015: 10:00 a.m. to 5:00 p.m.
Saturday, October 24, 2015: 10:00 a.m. to 4:00 p.m.
Schedule of Presentations at the Nikon School Theater:
PhotoPlus Expo Day 1 (10 a.m. – 5 p.m.) Thursday, October 22, 2015 (Speaker: Program Title)
10:15 a.m. – 10:45 a.m.: Michael Clark: Adventure Photography: Pushing the Envelope
11:00 a.m. – 11:30 a.m.: Vincent Versace: Self Assignment: One Camera, One Lens
11:45 a.m. – 12:15 p.m.: Dixie Dixon: Bringing Fashion to Life
12:30 p.m. – 1:00 p.m.: Matthew Jordan Smith: Behind the Lens: Secrets to Taking Great Photographs
1:15 p.m. – 1:45 p.m.: Lucas Gilman: For The Love of The Landscape: The Journey to Stunning Images
2:00 p.m. – 2:30 p.m.: Jodi Cobb: Stranger in a Strange Land
2:45 p.m. – 3:15 p.m.: Joe McNally: The Wedding Truck and the Impromptu Group Photo
3:30 p.m. – 4:00 p.m.: Mike Corrado: Focus on Flight: Photographing Birds In Your Own Backyard
4:15 p.m. – 4:45 p.m.: Adam Woodworth: Cosmic Vision: Capturing the Milky Way and Aurora
PhotoPlus Expo Day 2 (10 a.m. – 5 p.m.) Friday, October 23, 2015 (Speaker: Program Title)
10:15 a.m. – 10:45 a.m.: Lynsey Addario: It's What I Do
11:00 a.m. – 11:30 a.m.: Joe McNally: The Wedding Truck and The Impromptu Group Photo
11:45 a.m. – 12:15 p.m.: Dixie Dixon: Bringing Fashion to Life
12:30 p.m. – 1:00 p.m.: Matthew Jordan Smith: Behind the Lens: Secrets To Taking Great Photographs
1:15 p.m. – 1:45 p.m.: Adam Woodworth: Cosmic Vision: Capturing the Milky Way and Aurora
2:00 p.m. – 2:30 p.m.: Vincent Versace: Self Assignment: One Camera, One Lens
2:45 p.m. – 3:15 p.m.: Jodi Cobb: Stranger in a Strange Land
3:30 p.m. – 4:00 p.m.: Mike Corrado: Focus on Flight: Photographing Birds In Your Own Backyard
4:15 p.m. – 4:45 p.m.: Tony Sweet: Fine Art Nature and Outdoor Photography
PhotoPlus Expo Day 3 (10 a.m. – 4 p.m.) Saturday, October 24, 2015 (Speaker: Program Title)
10:15 a.m. – 10:45 p.m.: Lucas Gilman: For The Love of The Landscape: The Journey to Stunning Images
11:00 a.m.-11:30 a.m.: Jodi Cobb: Stranger in a Strange Land
11:45 a.m. – 12:15 p.m.: Joe McNally: The Wedding Truck and The Impromptu Group Photo
12:30 p.m. – 1:00 p.m.: Matthew Jordan Smith: Behind the Lens: Secrets To Taking Great Photographs
1:15 p.m. – 1:45 p.m.: Jerry Ghionis: The Power of Lens Choice
2:00 p.m. – 2:30 p.m.: Vincent Versace: Self Assignment: One Camera, One Lens
2:45 p.m. – 3:15 p.m.: Mike Corrado: Focus on Flight: Photographing Birds In Your Own Backyard
3:30 p.m. – 4:00 p.m.: Dixie Dixon: Bringing Fashion to Life