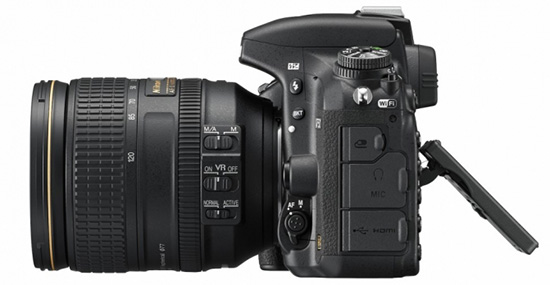 Update – I do not have a Nikon D750 handy, but my understanding is that the Wi-Fi is turned off by default. If you turn on the Wi-Fi capabilities of the D750, you have to make sure you setup a password for the wireless network, otherwise anyone with a smart device can access and download your pictures. The original AP report is misleading and confusing.
Update #2 – AP published a second post on that issue:
So in summary, by default the D750 sets up an unsecured connection on an Android or iOS smart device, which other manufacturer's Wi-Fi systems simply don't allow. Unless the user takes the trouble firstly to work out that they need to set up WPA2 security, and secondly how to do this, then their camera's Wi-Fi will remain unsecured. If they have Wi-Fi turned on in a public space without their own device connected to the camera, other people can connect and browse their SD card using no special equipment – just a mobile device with the WMU app installed.

It's important to make clear that we're not saying the D750 is inherently insecure, once it's been set up correctly by the user. Turn on WPA2 encryption and your images are safe. The problem is that it's insecure in the way that it's set up out-of-the-box, or indeed if its network settings are returned to their defaults, and we don't think Nikon adequately explains to the user how to fix this. There's no prompt either by the camera or the app, or instructions in their respective manuals, specifically telling users to set up a password.
This just in from AmateurPhotographer – reportedly the Nikon D750 Wi-Fi app uses an unsecured Wi-Fi network and anyone with a smart device can download your pictures:
AP technical editor Andy Westlake, who got his hands on the D750 last night, said: 'I couldn't believe it. The Nikon D750 uses an unsecured Wi-Fi network, and doesn't at any point require the camera owner to validate the identity of a smart device that's trying to connect to it.

If you have Wi-Fi turned on, anyone with a smart device and the Nikon Wireless Mobile Utility can connect to the camera and download images from the memory card without the owner's permission.

We tested and confirmed this in the AP office; another smartphone user simply has to connect to the camera's Wi-Fi network and start up the Nikon app to be able to browse and download images. The camera gives no clear indication that anything might be amiss.