Nikon D5300: new carbon fibre reinforced thermoplastics body

Nikon listed on their website that the new D5300 ($796.95) is made out of a "newly developed monocoque structure with carbon fiber reinforced plastic material", similar to the material used in Formula 1 race cars and in the new Boeing Dreamliner 787. The new material is called Sereebo carbon fibre reinforced thermoplastics and is produced by Teijin:
"Just two days after launching its Sereebo carbon fibre reinforced thermoplastics (CFRTP) brand, Teijin has announced that Sereebo has been selected for use in the structural parts of Nikon's new D5300 digital SLR camera, which is being released today. This is the first time Sereebo has been adopted for a commercial product.

Made with Sereebo CFRTP, which is said to offer outstanding strength and high conductivity, the camera's structural parts achieve high strength and electromagnetic shielding. Also, Nikon says, the surface is extra smooth and has no carbon fibre 'bosses' thanks to Teijin's superior resin-processing technologies." (source)
A while back I reported a rumor that Nikon was working on a new carbon fibre pro DSRL body, maybe the next D4 version will also be made out of the new material.
Nikon D5300: you can change the aperture while in live view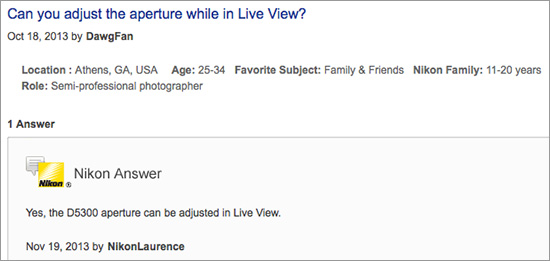 The second interesting fact (?) about the Nikon D5300 is that you can now change the aperture in live view according to a post by a Nikon rep on this official product forum. This is a great news since the Nikon D5200 and even Nikon D7100 don't have this feature. Can any D5300  owner confirm this?