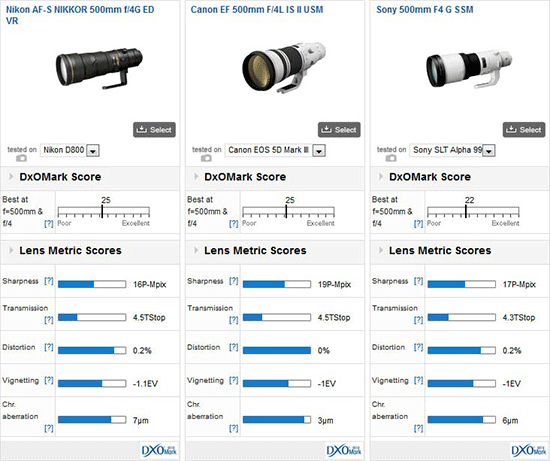 DxOMark published their test results and conclussions for the Nikkor 500mm ($8,399) and 600mm ($9,799) f/4G ED VR lenses:
Comparing the 500mm with rival offerings, we can see that the Nikon is very close to the new 3460g $13,000 Sony. That said the Nikon is slightly sharper at full-aperture and has better uniformity, which is crucial in a lens like this and accounts for the slightly higher DxOMark Score. Compared with the newer, lighter (3190g) and more expensive ($10,399) Canon model though, it can't match that at full-aperture nor has it the low levels of CA afforded by the three fluorite lens elements.

However, while the Canon 500mm mounted on 5D Mark III is sharper optically than the Nikon model mounted on D800, at the light levels used for DxOMark score (1/60, 150 Lux), the excellent dynamic range of the Nikon D800 sensor helps it improve the DxO Mark Score and accounts for the level-pegging. In lower light levels, the Canon would have the advantage.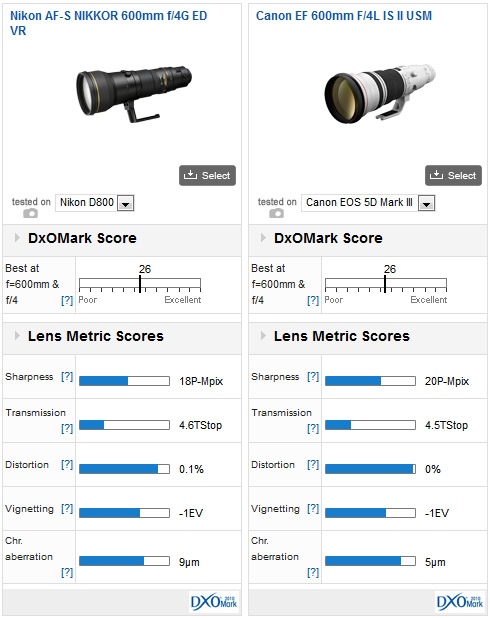 Although the two lenses are extraordinary performers, the Nikon can't quite match the new $12,799 triple fluorite Canon in sharpness or in lateral chromatic aberration, however overall the two perform very similarly. Both have homogenous sharpness at maximum aperture and possess low distortion and vignetting and excellent transmission, but reason why the DxOMark scores are the same is due to the excellent noise and dynamic range of the Nikon D800 sensor.