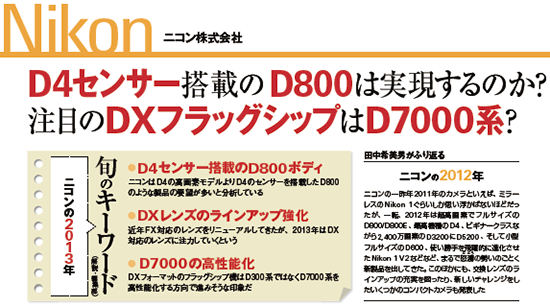 The Japanese magazine Impress published their Nikon predictions for 2013 (they are doing this every year – see their 2012 predictions here):
A new, D800 sized body, with the 16MP sensor from the D4. Nikon did that with the D3 and D700, but never released a camera with the improved sensor from the D3s. While this scenario is certainly possible, I still believe that Nikon is afraid of cannibalizing their D4 sales with such camera.
New DX lenses (something I mentioned few months ago).
Nikon D7000 replacement (see also this post). While 2012 was a FX year (three full frame DSLRs were announced), I think that 2013 will be the year of the DX format.
See the full list of 2013 predictions from Impress. Please note that those are just the opinions of the the editors, this information was not confirmed by Nikon.