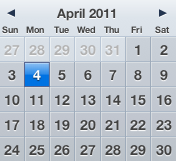 I feel pretty confident about the April 4th release date for the Nikon 5100, even though some countries have a Nikon press event scheduled for April 5th, 2011 (probably because of the different timezones). The interesting part is that there's also suppose to be some kind of a Coolpix presentation. This could just be rerun of the latest Coolpix cameras announced in February (similar to the recent Nikon event in Taipei) or it might be the new Nikon mirrorless system (I am secretly hoping they will not use the Coolpix or Coolpix Pro names).
Some rumors indicate that the Nikon D5100 will have a new "Night Vision" mode allowing you to take photos in near darkness. I am not sure if this will mean a new high-ISO level or just a software solution.
If this Amazon listing is correct, the D5100 will use the EN-EL9 battery.