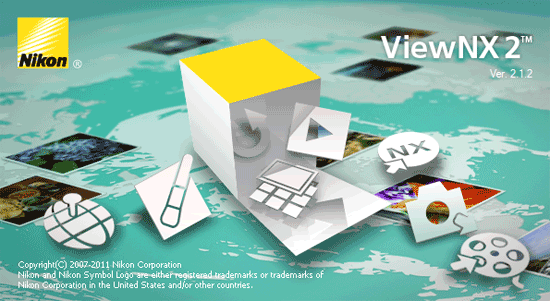 Today Nikon released View NX 2.1.2 (Windows only). There is also a new firmware 1.2 for the Nikon Coolpix P100 camera.
View NX 2.1.2 change log:
If ViewNX 2 was upgraded to Ver. 2.1.0 or Ver. 2.1.1 without uninstalling Ver. 2.0.0-2.0.3, my Picturetown did not display properly in ViewNX 2. This issue has been resolved.
When transferring files using Nikon Transfer 2:

– Image transfer using Nikon Transfer 2 is not possible with the following cameras: COOLPIX 910/900/600/300/100
– Image transfer using Nikon Transfer 2 with the camera connected to the computer is not possible with the cameras indicated below. Use a card reader to transfer images.
– D1, D1X, D1H
– COOLPIX 950/800/700
– COOLPIX 990/880 (under Windows 7)
Restrictions on Nikon Movie Editor:
1. Movies up to 30 minutes in length can be edited.
2. Depending upon the computer system (CPU), Nikon Movie Editor may quit unexpectedly when multiple movies and/or still images in the storyboard are previewed or a project is exported as a movie file.
H.264 movie playback under Windows: tones will be softer and colours will appear lighter in movies played back on a computer running Windows.
NRW (RAW) images: when images captured at a white balance setting of Auto and an image quality setting of NRW (RAW) are enhanced using ViewNX 2, the results achieved may differ from those achieved with in-camera NRW (RAW) processing.
Ratings applied with the camera: ratings applied with the camera in playback mode are not reflected in View NX2 or other applications that support ratings.
COOLPIX L19, L20, S550, and S560 Smile mode: scene mode information is not correctly displayed in the Metadata palette for images captured in Smile mode. However, all other operations function properly.