What can I win?
In this giveaway you can win a Eye-Fi Pro X2 8GB SDHC memory card:
How do I win?
The rules are simple – just leave a comment to this post. One comment per person please. Don't forget to add your email address (it will not be visible to the public and it will only be used to notify you in case you are the winner). I will close all comments in one week and will randomly pick the winner.
The best part?
This giveaway is open to anyone and is not restricted to US residents only, everyone is welcomed to participate.
Good luck!
Eye-Fi Pro X2 8GB SDHC memory card review
The Eye-Fi Pro X2 8GB SDHC memory card comes with a card reader and software that is embedded on the card. The software is installed by plugging the Eye-Fi card to the USB port of your computer (woks for both PC and Mac). The software can also be downloaded online.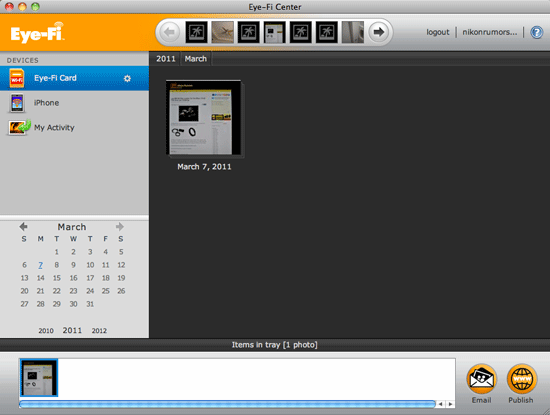 The Eye-Fi software provides different settings for:
Network selection - this is where you can setup your Wi-Fi network.
Photos, RAW files and Videos is where you can specify the destination folder on your local computer and enable sharing to social network sites like Facebook, Flickr, MobileMe, Picasa, Nikon My PictureTown and others (see complete list).
Notifications: you can receive email, SMS, Twitter and Facebook notifications when media is uploaded to any of the social media sites.
Geotagging automatically tags images and videos with the current location.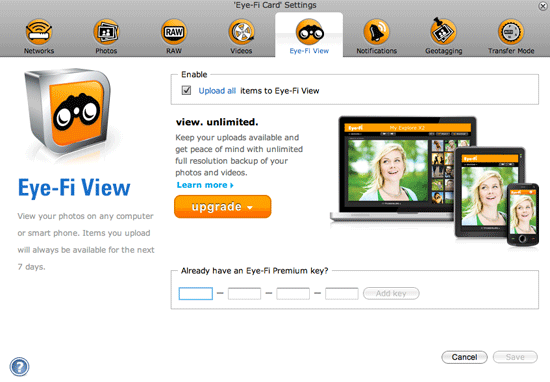 All Eye-Fi X2 cards include 7 days free media storage on Eye-Fi View. If you want it to be available for longer than that, you can subscribe to Eye-Fi Premium either on a monthly ($4.99/mo) or annual ($49.99/year) basis.
Eye-Fi Pro X2 8GB SDHC memory card allows you also to upload RAW online (FTP):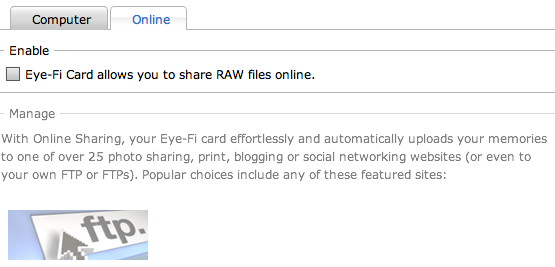 Another interesting option is the Endless Memory where older images that are already uploaded online will be deleted:

Selective transfer: photographers can select which images are uploaded by using the cameras PROTECT function: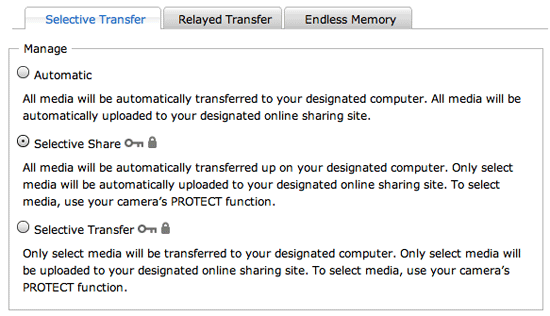 Here is an example where a sample image was automatically uploaded to my local computer, to the Eye-Fi View and to Nikon's MyPicturetown (the image is also present on the actual SD card):
Eye-Fi recently released also a free iPhone app (get it via iTunes) that allows you to wirelessly upload images from you iPhone to your computer.
The current version of the app will not receive photos or videos from the Eye-Fi SD card, but this functionality called Direct Mode will be added in the next few months and will open a whole new window of opportunities - you will be able to upload media online even if you do not have a Wi-Fi connection by simply using your iPhone (see also this video from the BBC):
The next video will give you an idea of the upload speed via a Wi-Fi 802.11n network (it took aprox. 25 seconds to transfer a 12.9MP NEF file from the camera to the computer):
At the time of this review the Eye-Fi Pro X2 8GB SDHC memory card costs $129.
You can sign up for Eye-Fi's mailing list or follow them on Facebook and Twitter to stay updated on the latest news.
Disclosure: This giveaway is void where prohibited by law. All taxes are the responsibility of the winner. This giveaway is sponsored by Eye-Fi.