What can I win?
In this giveaway you can win a set of three educational DVDs from Blue Crane Digital: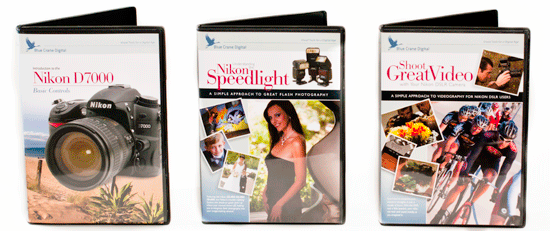 How do I win?
The rules are simple – just leave a comment to this post. One comment per person please. Don't forget to add your email address (it will not be visible to the public and it will only be used to notify you in case you are the winner). I will close all comments in one week and will randomly pick the winner.
The best part?
This giveaway is open to anyone and is not restricted to US residents only. The DVDs are not region coded and can be viewed anywhere in the world (all three DVDs are NTSC).
What if I don't win?
You can take advantage of this exclusive 15% off from Blue Crane Digital: simply enter "nikonrumors" into the coupon code at checkout. This will subtract 15% off their entire order, regardless of what you purchased. This offer is valid till the end of February.
Good luck!
Disclosure: The contest is void where prohibited by law. All taxes are the responsibility of the winner. This giveaway is sponsored by Blue Crane Digital, who is a sponsor of NikonRumors.com.