Amazon UK listed a new book called "Obtenez le maximum du Nikon D800" (translates to "Getting the most from the Nikon D800"):
The book is set to be published on February 9th, 2011.
The same book is also listed on Amazon France and on decitre.fr:
The description of the book says (Google translation):
"Sold in August 2008 at a price of 2,800 euros, the Nikon D700 (top of the line) was a great success. He will be replaced in late 2009 by the Nikon D800. Among the improvements of the device: the doubling of the sensor, which increases from 12 to 24 megapixels. The D800 is likely to be sold between 2000 and 2500 euros. This book is a comprehensive guide to discovery, empowerment and development of the Nikon D800."
On several occasions in the past we had a Nikon D400 book listed on multiple websites and the camera never materialized. At the end, the publisher came out and said that this was all a big mistake. What is interesting in this D800 entry are all the details they provided in the book description, including price, MP count and the number of pages.
Updates: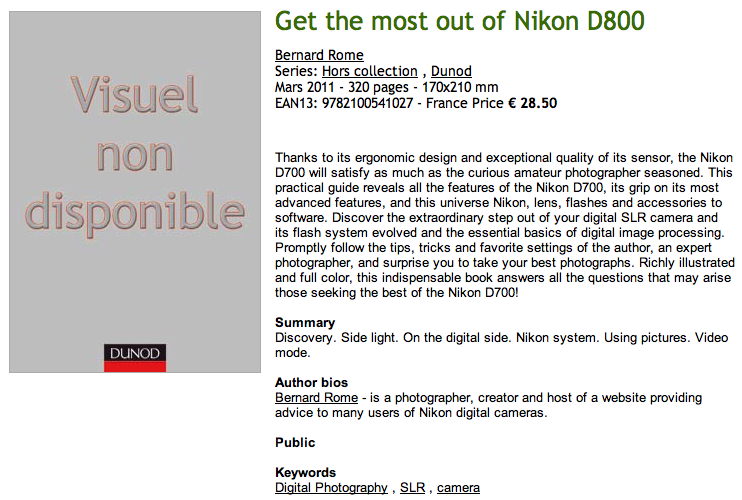 The above description actually mentions D700 and not D800.
The URL actually says D80 at the end:
http://www.dunod.com/loisirs-essais-bien-etre/loisirs-scientifiques-techniques/audio-photo-video/photographie/obtenez-le-maximum-du-nikon-d80
Via AP