Update: the giveaway is now closed. The winners will be picked on the forum and I will announce them later on the blog.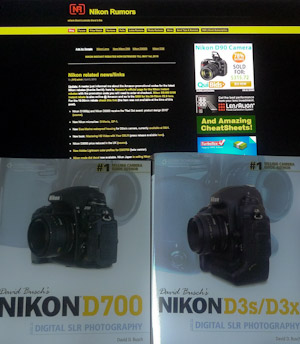 In this giveaway you can win a Nikon D700 or a Nikon D3s/D3x book by David Busch (bibliography). The rules are again simple – just leave a comment to this blog post indicating which book are you interested in. One entry per person, one book selection per person (if you have both cameras, I assume you don't need a book). I will close all comments next week and one of the NR forum moderators will randomly pick the winners. I still don't believe in "US only" giveaways and will ship this book anywhere in the world. Make sure you enter a valid email address.
Fine print: The contest is void where prohibited by law. All taxes are the responsibility of the winner. NikonRumors.com is not responsible for anything.