Usually my posts are very short. This one is not. This is the first NR product review.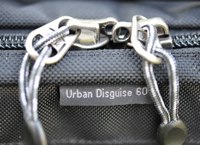 I am keeping up with my promise -I already started the Nikon Rumors Forum and next in the list are product reviews. My first choice for review is the ThinkTank Urban Disguise 60 photo shoulder bag.  I will not review products that are already widely discussed on other sites, so don't expect a Nikkor 70-200 f/2.8 review here.
The first question in the camera bag selection process always is "what type" – backpack, beltbag, shoulder bag, etc. So many choices, so many options… Shoulder bags are my favorite because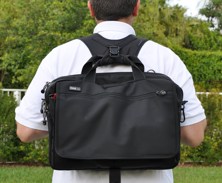 they provide easy gear access, but they are not very useful if you go hiking or have to carry your gear for a whole day – then you will need a backpack. ThinkTank provides a shoulder harness attachment that turns the ThinkTank Urban Disguise 60 shoulder bag into a backpack. If you get two extra straps, you can also wear it as a chest bag. Problem solved – the ThinkTank Urban Disguise 60 bag is a good universal solution to each of your needs, especially if you are on a budget and cannot afford multiple photo bags.
What I like about this bag is that, as the name suggests (Disguise), it does not look like a photo bag at all. This is also the case for almost all ThinkTank products. I also have the Crumpler 7 Million Dollars Home shoulder bag and here are some comparisons between Crumpler and ThinkTank Disguise 60 photo shoulder bags :
The Crumpler model has a "flip-over" opening, which gets in your way when you try to open the bag while on your shoulder. The ThinkTank bag has a zipper opening, which is better in my opinion because you can keep it open at all time for easy access.
The handle on the Crumpler bag is not

attached

to the actual bag – it's

actually part of

the "flip-over" cover. Before you pickup the 7 Million Dollars Home, you have to make sure the cover is closed and locked. As you can see on the picture, the ThinkTank model has handles that are

attached

to the actual bag and you can

carry

it even when it's opened.
The Crumpler has a fixed set of dividers (6 total – one for the DSLR in the middle and one on each side for lenses/flashes). ThinkTank disguise comes with a set of 14 dividers that lets you create your own compartments.
The shoulder strap on the Crumpler is not removable. The shoulder strap on the Urban Disguise is removable and has a thicker padding.
ThinkTank is definitely superior, more versatile, bigger but also almost twice as expensive as the Crumpler.
The Crumpler bag does not come with any extras (see the list below for ThinkTank's extras).
Crumpler has also a model that can hold a laptop (Crumpler The

Brazillion

Dollar Home), but it's almost $100 more expensive than the Urban Disguise 60. If you want to carry a laptop, ThinkTank Urban Disguise 60 is the better & cheaper solution.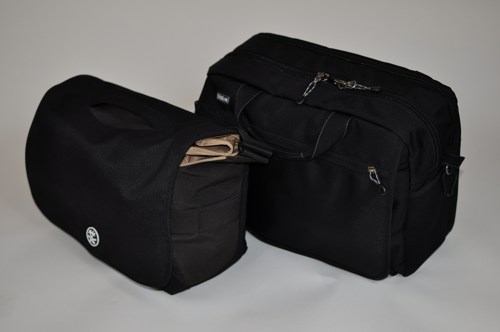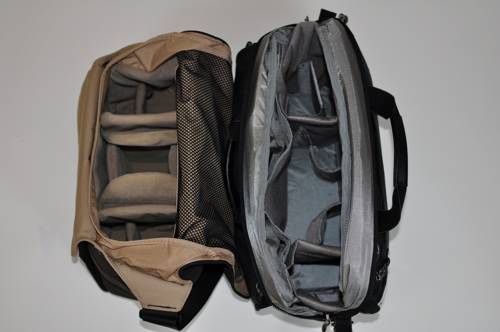 ThinkTank Disguise 60 bag specs and main features:
it can be used as a backpack (with an optional backpack belt)
comes with a sealed rain cover
it is a shoulder bag
it can be worn also on the chest
back slot to attach to roller
has a separate laptop opening
the laptop section can be additionally divided for smaller portable devices
no PVC used (only environmentally friendly products were used) during the manufacturing of this bag (and all other ThinkTank bags)
includes memory card wallet
removable shoulder strap
extra dividers (14 total)
business cards holder on the back
two side pockets for water bottles of flash guns
YKK locking zipper
wide back pocket – good for magazines
weight: 2 – 3 lbs (depending on how many dividers are used
external dimensions: W 16.5 x H 12 x D 6 inches
internal dimensions: W 16 x H 11.25 x D 4.25 inches
laptop dimensions:    W 16 x H 11.25 x D 1.5 inches
warranty: "to the original owner, we guarantee and warrant the bag against any defects in the material or workmanship for as long as you use the product".
In the ThinkTank Urban Disguise 60 bag I could easily fit 5 lenses, 4 flash guns, one DSLR body, a 15" MacBook Pro and a bunch of filters, batteries, cables, charges, etc. The two front pockets are big enough to carry a pro level DSLR body. The site pockets can easily fit a flash gun or a bottle. If you have a 17" laptop, please check the dimensions before you buy (a 17" MacBook Pro will fit, but it will be tight).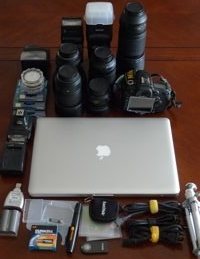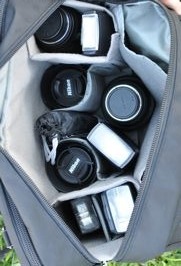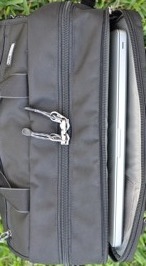 There are 6 other ThinkTank Urban Disguise models – you can see them all here.
What I don't like about the ThinkTank Disquise 60:
If you put some heavy items in the front 2 pockets (bigger lens or a DSLR body), the bag will get off balance and will lean towards the front pockets when left on the floor.
The ThinkTank Urban Disguise 60 bag does not have rubber feet on the bottom (neither does the Crumpler).
Currently ThinkTank has a FREE bag ofer with your minimum purchase of 50$ directly from ThinkTank. The available bags you can get for FREE with that promotion are:
All The Other Stuff ($34.95)
Lightning Fast ($35.00)
Lens Drop In ($34.95)
Lens Changer 50 ($27.95)
I do believe that the ThinkTnak Disguise series are one of the best shoulder bags available on the market today. I would like to know about your experiences with photo bags. What are you using? What do you like? What don't you like? Since this is a review (and it will be part of the review page) comments are closed, but I created a forum entry on this topic for further discussions.
Disclosure: I did not get paid for this bag review, however the bag was delivered to me for free and I am also part of Think Tank's affiliate program.