Update: B&H is now taking pre-orders on those new Nikon Fieldscopes – expensive!
Nikon continues to release DSLR compatible products. Few weeks ago we had the new Nikon Fabre Photo EX – a portable stereoscopic microscope that can be attached to a Nikon DSLR camera and now we have some new fieldscopes that can be attached to a DSLR or a Coolpix. I just don't like the red ring on the front of those fieldscopes 🙂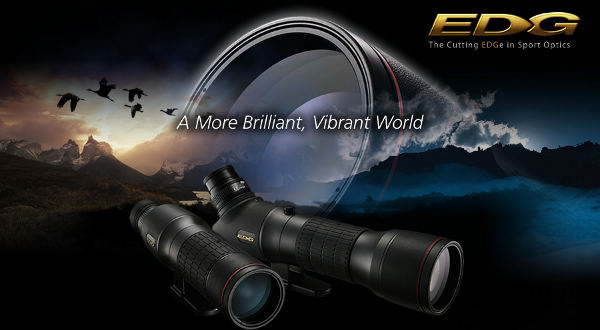 RRP: TBC
Sales start date: Summer 2009Nikon is pleased to announce its new flagship range of cutting-edge premium, yet affordable, new EDG fieldscopes that offer first-class performance out in the field.The new EDG 85/85-A and EDG 65/65-A models incorporate legendary Nikon technology that provide users with unparalleled optical and mechanical performance. Nikon's ED (Extra-low Dispersion) ensures chromatic aberration compensation and the phase correction coated roof prism provides high resolution for sharper, clearer viewing. Straight models, in addition, feature dielectric high-reflectivity multi-layer prism coatings for higher contrast than ever.
The compact, stylish design is waterproof thanks to the O-ring seals and nitrogen gas which ensure clear observation even under adverse weather conditions making the scopes ideal for a range of activities that include bird watching and nature observation.
Seven new compatible eyepieces have also been introduced making it possible to use the fieldscopes in a variety of applications under various climatic conditions. The newly developed zoom eyepiece especially makes for superior optical performance with minimised distortion and comfortably long eye relief (18.4-16.5mm).
• ED glass for chromatic aberration compensation
• Phase correction coated roof prism for high resolution
• Dielectric high-reflective multilayer prism coating on roof prism for the brightest view (straight only)
• Full multi-layer coating
• Bayonet mount with lock for eyepiece lens
• Waterproof up to 2m for 10 min., and fog-free – thanks to O-rings and nitrogen gas (main body and eyepiece joint is water-resistant)
• New and stylish design
• Three tripod mount screw holes provided for flexible mounting position
• Combination of Nikon D-SLR camera, Digital Camera Zoom Attachment FSA-L2 and EDG Fieldscope enables super-telephoto photography or digiscoping.
• Seven kinds of new eyepieces for optimum optical performance
• Bayonet mount with lock for easy attachment and release
• Fully multi-layer coated
• Waterproof up to 2m for 10 min., and fog-free – thanks to O-rings and nitrogen gas (body and eyepiece joint water-resistant)
• Eyecup moves in and out at turn of eyepiece ring and stops at any of three positions with click useful for observation and digiscoping (except for FEP-30, FEP-25LER and FEP-20-60)
• FEP-30W features interchangeable soft rubber eyecup for observation and digiscoping eyecup for connection with digital camera bracket FSB series
• FEP-25LER has ultra long 32.3mm eye relief
• FEP-20-60: Long eye relief (18.4-16.5mm) Minimized distortion with aspherical lens
• Current Fieldscope eyepieces can be used with FS Eyepiece Mount Adapter EMA-1
• Many compact digital COOLPIX series can be attached to eyepiece of FEP series (except FEP-20-60) with digital camera bracket FSB series