This post will be updated constantly – keep checking.
10:40 pm: Nikon Japan just could not wait to give us the goodies… before the official release time
and Nikon US – like a Swiss watch @ 11pm:
Very good price (US): $199.95! Nikon will be selling a bunch of those. It all makes sense now. I will be getting one. Check back here tomorrow for pre-order options.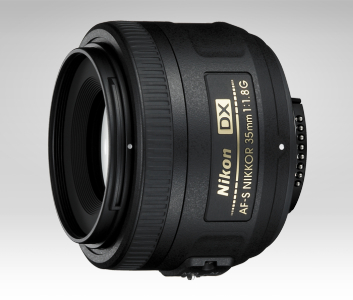 US press release:
MELVILLE, N.Y. (Feb. 8, 2009) – Nikon Inc. today announced the AF-S DX NIKKOR 35mm f/1.8G lens, which is the first fixed focal length, fast-aperture DX-format lens that affords photographers superb image quality along with the creative possibilities and versatility of the classic 50mm focal length (FX-format equivalent of 52mm). When mounted on a DX-format camera body, it enables photographers to document their world with a lens that produces a picture angle similar to the field of vision as seen through the human eye. Whether new to D-SLRs or a seasoned enthusiast, users will appreciate the extreme low-light performance and the expanded ability to dramatically separate the subject and background with the new 35mm DX lens' wide f/1.8 aperture.
"The development and release of the 35mm f/1.8 NIKKOR lens delivers new and added versatility to the Nikon DX-format digital SLR system and provides DX-format photographers with a broader range of fast-aperture lens options," said Edward Fasano, general manager for marketing, SLR Systems Products at Nikon Inc. "This f/1.8 prime lens provides users with exceptional control of background and foreground, superb low-light ability, and the natural focal length that has been the staple of photography since its inception."
Lightweight, compact and affordable, this lens can easily become a fast favorite for any level of photographer, and is the perfect complement to D60 users who are just starting to learn D-SLR photography or enthusiasts who love their D90. The AF-S DX NIKKOR 35mm f/1.8G lens is ideal for travel, general photography, landscape shooting, portraiture or pushing creative boundaries. The stunning sharpness, clarity and color reproduction are all proof positive of more than 75 years of NIKKOR heritage and experience in optics engineering.
This lens continues the tradition of NIKKOR precision optics to provide photographers with sharp, high-resolution images and the ability to focus as close as 0.98 feet, while the integration of an ultra-compact Silent Wave Motor ensures fast, whisper-quiet AF operation.
The 35mm DX lens construction consists of eight elements in three groups, with an aspherical element to reduce size and weight, while contributing to the enhanced balance when mounted on a smaller DX-format D-SLR. A rounded diaphragm opening combined with the nine-blade aperture contributes to a substantially more circular bokeh for a more natural appearance of out-of-focus background elements. Additionally, instances of lens flare and chromatic aberration are suppressed using Nikon's exclusive Super Integrated Coatings, which also help ensure vividly accurate color balance.
The AF-S NIKKOR 35mm f/1.8G lens is scheduled to be available at Nikon authorized dealers beginning March 2009 at an estimated selling price of $199.95.* For more information, please visit www.nikonusa.com.
http://www.nikon.com/about/news/2009/0209_nikkor_01.htm:
TOKYO –Nikon Corporation is pleased to announce the introduction of the DX-format 35mm single-focal-length lens AF-S DX NIKKOR 35mm f/1.8G, which offers a picture angle equivalent to a focal length of 52.5mm in FX and 35mm formats.
The AF-S DX NIKKOR 35mm f/1.8G features a large maximum aperture of f/1.8 enabling effortless handheld shooting in dark settings, such as a dimly lit room. This lens makes it easy to create large, beautiful blur effects. And the built-in Silent Wave Motor (SWM) ensures fast, quiet autofocus, even with SLR models that do not have a built-in motor, such as the D40 series and D60.
The AF-S DX NIKKOR 35mm f/1.8G is the first single-focal-length lens with a normal picture angle developed exclusively for Nikon's DX format. It is a compact, lightweight model that achieves the high reproduction performance unique to single-focal-length lenses at an affordable price. This lens is most suitable for natural portrait and landscape shooting.
Note:
Although DX NIKKOR lenses can be attached to 35mm film and APS cameras, they cannot actually be used with them due to their small image circle. When the lens is mounted on a Nikon FX-format digital SLR, with the image area in the shooting menu set to Auto DX crop (default), DX crop is selected automatically.
AF-S DX NIKKOR 35mm f/1.8G Major Features
DX-format, normal single-focal-length lens with 35mm focal length (picture angle is equivalent to a focal length of 52.5mm in FX and 35mm formats)
Large maximum aperture of f/1.8
Silent Wave Motor (SWM) ensures smooth AF operation
High-performance optical system with aspherical lens delivers superior reproduction capability
Compact, well-balanced design when attached to small SLRs
Two focus modes available – M/A (manual-priority autofocus) and M (manual focus)
Metal mount
Natural blur effect thanks to seven-blade rounded diaphragm
AF-S DX NIKKOR 35mm f/1.8G Specifications
| | |
| --- | --- |
| Focal length | 35mm |
| Maximum aperture | f/1.8 |
| Minimum aperture | f/22 |
| Lens construction | 8 elements in 6 groups (with one aspherical lens) |
| Picture angle | 44° |
| Closest focus distance | 0.3 m/0.98 ft. |
| No. of diaphragm blades | 7 (rounded) |
| Filter attachment size | 52mm |
| Diameter x length (extension from lens mount) | Approx. 70 x 52.5 mm/2.8 x 2.1 in. |
| Weight | Approx. 200 g/7 oz. |
| Supplied accessories | 52mm snap-on front lens cap LC-52, Rear lens cap LF-1, Bayonet hood HB-46, Flexible lens pouch CL-0913 |