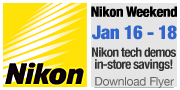 J&R has a Nikon Weekend from Jan 16-18 with some really good deals. It seems that they still have their lenses on the old prices and many are in stock. If you are in NYC check their in-store flyer.


J&R is also holding a series of free seminars at lunchtime. Light healthy snacks will be served 🙂
Circuit city liquidation sale begins today – check it out, they may have some good Nikon deals. I guess Nikon will never get their $14,926,445 back.