I received those 2 pictures today with the text "Nikon D400 is new 24.4 MP body will be released on
November 20th." The email was sent from outside the US (do not want to mention the country, just in case this turns out to be real).
The original EXIF data (included after each picture) indicates that those snapshots were taken with a camera phone Nokia N70 on July 25, 2008 (?). I doubt that a camera phone will have such a debt of field – take a look at  the text on the box. In addition the box says Mac OS 10.4.x, we are now up to 10.5.5. Adobe Photoshop CS2 was used as well?
I am 99% sure those are fake, but I will still publish them for the 1% chance that they may be real. If nothing else, I found those entertaining. They did a good job on the "4" – see the D40 label here.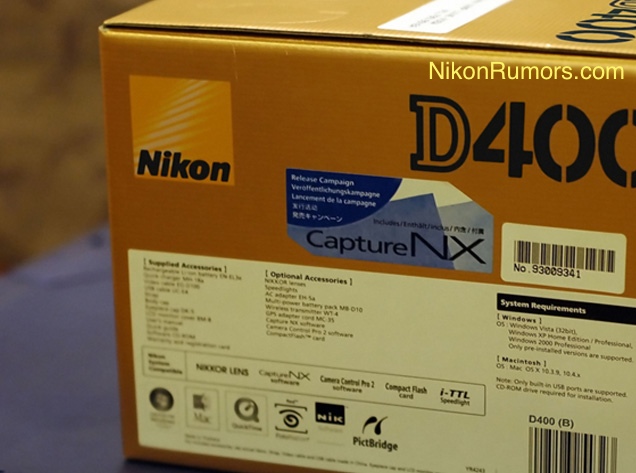 NikonD400box.jpg – EXIF Information
– Exif
Make    Nokia
Model    N70-1
Orientation    top, left side
X Resolution    1/72 inches
Y Resolution    1/72 inches
Resolution Unit    Inches
Software    Adobe Photoshop CS2 Windows
Date/Time    2008:11:05 11:00:49
YCbCr Positioning    Center of pixel array
Exposure Time    22201/1000000 sec
F-Number    F3.2
ISO Speed Ratings    80
Exif Version    2.20
Date/Time Original    2008:07:25 13:50:10
Date/Time Digitized    2008:07:25 13:50:10
Components Configuration    YCbCr
Shutter Speed Value    1/32 sec
Aperture Value    F3.2
Light Source    Unknown
Flash    No flash fired
Focal Length    4.5 mm
FlashPix Version    1.00
Color Space    sRGB
Exif Image Width    636 pixels
Exif Image Height    473 pixels
Compression    JPEG compression
Thumbnail Offset    666 bytes
Thumbnail Length    5562 bytes
Thumbnail Data    [5562 bytes of thumbnail data]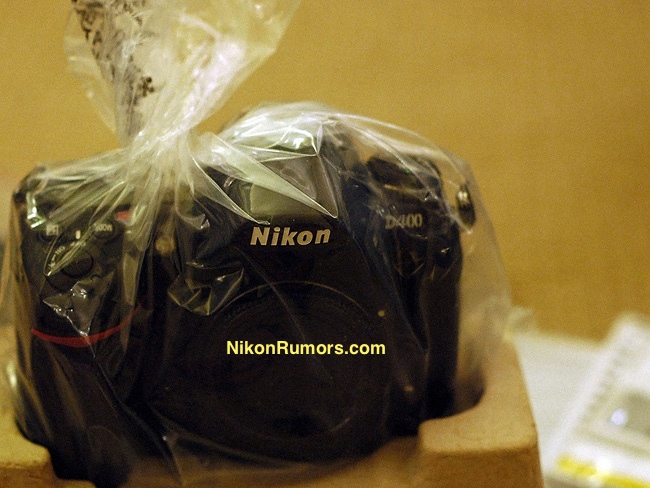 NikonD400body.jpg – EXIF Information
– Exif
Make    Nokia
Model    N70-1
Orientation    top, left side
X Resolution    1/72 inches
Y Resolution    1/72 inches
Resolution Unit    Inches
Software    Adobe Photoshop CS2 Windows
Date/Time    2008:11:05 11:27:53
YCbCr Positioning    Center of pixel array
Exposure Time    59213/1000000 sec
F-Number    F3.2
ISO Speed Ratings    125
Exif Version    2.20
Date/Time Original    2008:07:25 13:48:06
Date/Time Digitized    2008:07:25 13:48:06
Components Configuration    YCbCr
Shutter Speed Value    1/16 sec
Aperture Value    F3.2
Light Source    Unknown
Flash    No flash fired
Focal Length    4.5 mm
FlashPix Version    1.00
Color Space    sRGB
Exif Image Width    650 pixels
Exif Image Height    488 pixels
Compression    JPEG compression
Thumbnail Offset    666 bytes
Thumbnail Length    4528 bytes
Thumbnail Data    [4528 bytes of thumbnail data]